Award Points
Our Instant Award Points Program is the fast and hassle free way to motivate, reward and engage your employees and associates. Our Award Points program combines the benefits of brand name merchandise with award points, which are redeemable immediately via mail back form or online or can be accumulated for redemption of a higher value gift item, and instant award capability.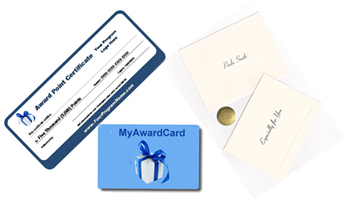 Order as needed or pre-order in bulk to award employees "on the spot" for a job well done

Distribute points instantly via email, gift certificate, award card, or note card

Easy and hassle free. No database management, or other administrative nightmares. Secured thru user name and password. Employee simply enters code provided to redeem

Available in various denominations starting at 1,000 points

Perfect for: Spot Awards, Peer-to-Peer Awards, Safety Awards, Employee of the Month, Instant recognition, and Loyalty Programs as well as when most recipients do not have a company email address.
The recipient simply goes either to our print or online catalog to view our merchandise catalog and select their gift award.
Award Points Program
Custom website with your company logo

Optional gift catalog for those without easy web access

Custom gift certificates or online e-certifates