Employee Spot Awards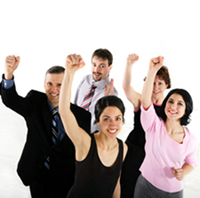 Employee spot awards help increase employee engagement and motivation. Spot awards let you recognize employee accomplishments when they happen "on the spot" while making the accomplishment and award more relevant and "immediate" for the employee. Spot awards reinforce positive behavior and let employees know that efforts are noticed and appreciated.
Impactful spot awards from Incentive America can be used for special recognition, "thank you", above & beyond effort, project completion, positive customer feedback, etc.
Choose from our Instant Award POINTS, One Time GIFT awards, Nomination Awards, and On-Site Company Awards. Recipients see the award but never the dollar values.
Instant Award Points
Redeem one or accumulate multiple awards to redeem when there are enough points for your wish list gift.
Instant Award Card - Order these cards in many point denominations (beginning $5 point value) and distribute "on the spot". Online redemption. Optional premium note card for a more formal presentation.

Points Certificates - Order these point certificates in many point denominations (beginning $5 point value) and distribute "on the spot". Redeem online or use mail-back option on back of certificate (for recipients without access to the Internet)

Manager online instant ePoints - Manager adds points to employee company award online account "on the spot", with congratulatory or thank you note from manager when points are delivered.
One-Time Gift Award
Recipient specific award levels ($25-$3500), so the recipient can immediatley redeem for a gift at that level.
Use award cards for online gift viewing and redemption. Optional premium note card or greeting card available.

Use printed gift brochures for online or mail-back gift redemption (for recipients without Internet access)
Nomination Award
Using a custom company award site, you can nominate employees for a spot award. Management approves nominations prior to points prior to being awarded and loaded to employee account.
Nominate employees for a job well done, good customer service feedback, or project completion

Online nomination form submission

Nominations reviewed and points awarded by review board/management

Recipient receives email notification of award. Nominator receives notification of award.
On-Site Company Awards
Use on-site company logo awards to distribute as spot awards. We produce a variety of company branded awards including mugs, umbrellas, etc. These are distributed as necessary for spot awards.