Incentive Rewards Program
As recipients accumulate point awards for goals accomplished, they can visit your customized website to redeem the point awards for the gift(s) of their choice. Each participant in the employee motivation program will have his/her own secure account to accumulate points. Each recipient will be able to log in, receive a password, view the gift catalog, and select gifts utilizing their accumulated points from the appropriate category. Our incentive points rewards program can be managed entirely online or can integrate select paper elements. Complete reporting capabilities are available online at anytime.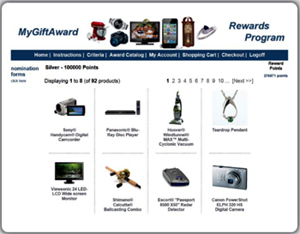 Incentive Rewards Website
The online program website provides total customization and is uniquely designed using numerous graphics, images and unlimited content. Our web development staff will create the look that will help you accomplish your program goals. Provide us with the website images, gift recipient's email address and the corresponding price category desired and we will handle the rest.
Rewards Program Communications
Send blast emails to all program participants, or specific groups

Announce incentive winners

Provide printed catalogues to each participant or each location

Provide posters to each location to promote the incentive rewards program
Rewards Reports
Points program reports can be accessed online by your Program Administrator at any time or scheduled to be delivered on a weekly, monthly or quarterly basis as needed.
Reports can be generated for different groups of participants or all users

Includes all participant information, order details and point award statistics

Reports can be saved for future reference and comparative analysis

Direct management of sub-administrator accounts and information