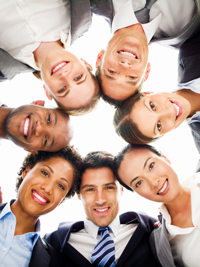 Umbrella Incentive Program
Our umbrella incentive program unifies all of your incentive and reward programs under one integrated umbrella platform, making your rewards program easier to manage and administer. Use our unified umbrella incentive points program to recognize employees for several reward occasions.
Our umbrella program recognizes employee's efforts to help the organization reach new heights and allows employees to reach the highest levels of rewards by accumulating points for service milestone, safety awards, sales awards, peer-to-peer recognition, health & wellness, idea submission or implementation - any program that you choose. Employees will be highly motivated and reach for the stars when their incentives in several areas are consolidated, allowing them to earn points to redeem at aspirational and higher point values awards.
Administer centrally, while still allowing for local control and management empowerment
Easy performance tracking and reporting of all individual programs and locations
Consolidated award for employees, allowing them to redeem for higher value awards with their point accumulation
Consolidated billing or local billing
Can be administered at any budget level
Quick program set up
Typical programs under the umbrella incentive program